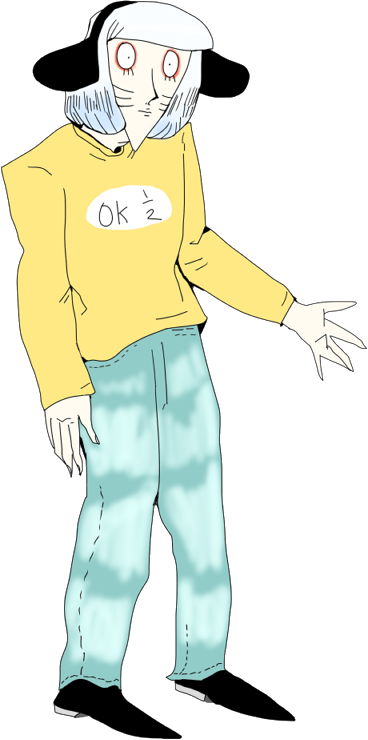 DATA:


TYPE: CATMAN (SUBTYPE HUMAN)

AGE: LOST

KNOWN SKILLS: DURABILITY, VANISHING IN ONE SPOT (NOTE: NOT SAME AS TELEPORTING), ADAPTABILITY, HIGH RECOVERY SPEED, WATCHING ANY KIND OF TELEVISION PROGRAM, SKILLS IN SMALL BOMB MAKING

LIKES: HIS MASTER, READING FYODOR DOSTOEVSKY NOVELS (NOSTALGIC REASONS), TECHNOLOGY, RELAXING, TISSUES, PICKLED VEGETABLES

DISLIKES: GHOSTS, LOUD NOISES

DANGER LEVEL: LOW

Nyon is a catman of Russian origin and lives directly under Luther's rule
Because of being directly connected to Luther for so long (and wide), his revival speed is extremely fast. To compare to Randal's even, where if he isn't in his coffin could take a very long duration to recover his form (even then not everything might come back at once), it is impressive in a way.

One of the few members of the main house who is on the low spectrum for danger potential. He would most likely try to avoid other humans and non-humans instead of directly confronting them altogether due to being more soft spoken and shy, but if its the right mood would chill out and smoke some weed with people; if they were okay with that that is.

Despite that, and despite appearing quite timid and uneasy of things usually, he would do anything for his master.

There is also rumour he might like the amusing things that happens to him more than you would think on a visual glance, depending

He's never been seen without his hat on. It's possible it can't come off.

Before living in the main house, his face and name was a different persona. It is long gone however.