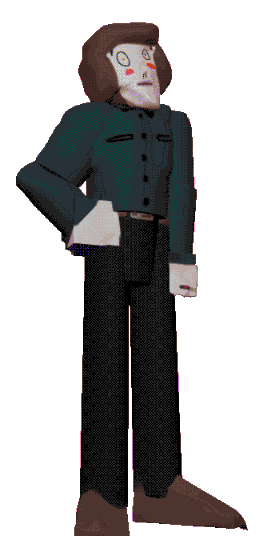 DATA:

TYPE: HUMANOID

KNOWN SKILLS: LIGHT TELEPORTATION, CONNECTOR LINK (THROUGH DIGITS), MALLEABLE BODY, "RICK" (UNKNOWN MODEL HANDGUN), COOKING, BARGAIN HUNTING, CUTTING HAIR, SURVIVING , FAST REJUVINATION, SOME FORM OF MAGIC.

DANGER LEVEL: MODERATE/HIGH; GENERALLY NICE TO HUMANS AND MAY HELP THEM BUT IS ALSO UNPREDICTABLE IN NATURE AND MOOD.

IT'S RUMOURED HE HAS NURSED INJURED/NEAR PERISHABLE HUMANS AND OTHERS BACK TO HEALTH, BUT LOCATING INDIVIDUALS HAVE BEEN NEAR IMPOSSIBLE. HE HAS MENTIONED THAT EATING HUMANS IS WRONG, BUT IS SHOWN TO ALMOST EAT A WAS-THOUGHT DECEASED HUMAN. BECAUSE OF UNPREDICTABILITY BEST TO AVOID INTERACTION IF POSSIBLE.

LIKES:HIS PETS & FAMILY, HIS HOUSE (AND CLEANING/DECORATING HIS HOUSE), CHRISTMAS, GERMAN LANGUAGE, HOSTING, SOME VIDEO GAMES, "CATS" (MOVIE ON VHS), THINKING, CUTTING HAIR, BEING ALIVE, HOLES, ALSO WATCHING PEOPLE

---

LUTHER is someone who appears to be a young man and is supposively Randal's brother. He's always working hard to make sure everyone is getting enough sleep and liquid intake. He has some pets like the catmen, Nyon and Nyen respectively, Nana the snake and more past present future and ecetera and ecetera. He loves everyone very much.