preservation of the hidden world of randal and his friends
Randal's Friends (RANFREN) is a series of surreal comics about a young person and his brother,
along with the catmen people and other friends in their house in the mysterious Great Canadian suburbs where anything can happen.
Randal has friends such as dolls which he can talk to and his new human pet Sebastian de Tomato Smith Chicken legs,
who doesn't quite seem to belong. Join them as they experience being people, the best that they can anyways. .
information and archive of comics, cartoons and more are contained here.
**This website has pages with automatic music. Mute your browser before proceeding if you do not want to hear glorious music.
last updated: 2021-09-23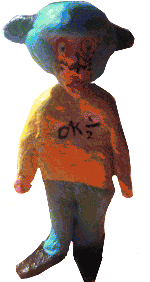 please, click the catman to enter. Thank you.
the world is am achine

this site best viewed on PC or persocom.
Copyright ©2016 captainhowdie